Bringing local issues to the attention of the world
IIWR-MB in special consultative status with the Economic and Social Council of the United Nations
In July 2016, the IIWR-MB received Special Consultative Status with the Economic and Social Council of the United Nations, making it the first and only non-profit organization in Manitoba to have such a designation.
It is with this special status from the United Nations, that the IIWR-MB is able to send a delegation to the meetings of the Commission on the Status of Women, held in March in New York City.  IIWR-MB is also able to offer an official parallel event, and have done so each year since being accredited.

COMMISSION DETAILS BY YEAR
Follow the links below to learn more about each year of IIWR-MB involvement in the United Nation's Commission on the Status of Women.
In 2020, IIWR-MB will send a delegation to the Commission on the Status of Women in New York. 
The CSW will mark the twenty-fifth anniversary of the Fourth World Conference on Women and adoption of the Beijing Declaration and Platform for Action (1995).
Interested in going?  Watch for more info.
In 2019, the largest IIWR-MB delegation of 30 members attended the Commission.  IIWR-MB held a very successful parallel event "YOUTH SPEAK OUT: Canada's Social Protection System."
In 2018 IIWR-MB sent a large, diverse delegation to the CSW, and held a well attended parallel event, "Mass Incarceration of Rural and Indigenous Women in Canada."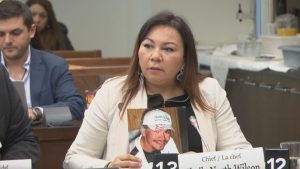 In 2017 IIWR-MB made its first appearance at the CSW with a delegation of 15 members, many of them young women.  The first parallel event was also held, Risks for Canadian Indigenous Women Transitioning to an Urban Environment.