Volunteer Board and Committees
shaping the work of IIWR-MB
IIWR-Manitoba is governed by a board of volunteers elected from the membership at the Annual Meeting.  Membership in IIWR-MB is open to all people and organizations supportive of women's human rights. 
Co Chairs: Teruni Walaliyadde & Sahla Mitchell
Secretary: Christine Williams
Treasurer: Sanjida Ahmed
VP Administration: Fiona Vowell
VP Diversity:  Jessica Da Silva
VP Youth: Shayne Bloomfield-Wong
Co Chairs, Advocacy: Micaela Crighton & Leah Wilson
Chair Communication: Jessica Botelho-Urbanski
Elizabeth Aluk
LeAmber Kensley
Renata Meconse
Anita Neville
Florence Okwudili
Darci Todoruk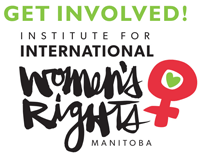 There are many ways for members to make a contribution to the work of IIWR-MB.
We encourage participation by all our members on committees if they wish, or to represent IIWR-Manitoba in community activities. Examples of committees are the Advocacy Committee, Communications Committee, Program Committee and the Event Committee. An example of outside representation would be sitting on the Winnipeg UN Safe Cities Steering Committee. If you are interested in becoming involved on the Board, or on a Committee, please contact us.
Everyone is welcome to participate in our programs and events. For more on what is happening, visit our Events Calendar .
Visit our Membership page to learn how to become a member.
Get to Know the Current Board